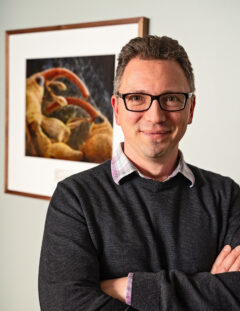 Daniel Kariko is a North Carolina based artist, and a Professor of Fine Art Photography in School of Arts and Design at East Carolina University, in Greenville, North Carolina. Kariko is currently serving as an Assistant Director of the ECU School of Art and Design, and the Coordinator for the Undergraduate Programs.
Kariko's images investigate environmental and political aspects of landscape, use of land and cultural interpretation of inhabited space. He worked on several long-term photographic projects in his native Serbia, recording the aftermath of the war in Balkans. Since 1999 Kariko documented the endangered wetlands and dramatic changes in the landscape in Barataria- Terrebonne region of South Louisiana. His other projects include documentation of foreclosed housing in Florida during the 2008-09 real estate crisis, and scanning electron microscope portraits of locally found insects.
Kariko's work has been shown nationally and internationally in galleries and museums, including: Noorderlicht Photofestival, Groeningen, The Netherlands; Yixian International Photography Festival, Huangshan City, China; Manchester Science Festival, UK; Rewak Gallery, University of Sharjah, United Arab Emirates; Edinburgh International Science Festival, UK; Museum of Contemporary Art of Vojvodina, Novi Sad, Serbia; Rijeka Foto Festival, Croatia; Fries Museum, The Netherlands; Festival della Scienza di Verona, Italy; Photon Gallery, Vienna, Austria; Royal Albert Hall, London, UK; ArtCell Gallery, Cambridge, UK; Galata Museo del Mare, Genova, Italy; Orlando Museum of Art, Orlando, FL; and The National Museum of Nuclear Science and History, Albuquerque, NM.
Kariko's work was featured in a number of online and printed publications, including: Nature, Art Papers, CNN Photos, National Geographic Proof, PetaPixel, Wired, Design Observer, and Discover Magazine.
Kariko received his Bachelor of Arts degree at Nicholls State University in Thibodaux, Louisiana and his Masters of Fine Arts from Arizona State University in Tempe, Arizona in studio arts with a concentration in photography.
---